In adult patients with R/R B-cell precursor ALL
Rapid and reliable manufacturing, with a 92% manufacturing success rate1*
TECARTUS® can only be administered at an Authorized Treatment Center (ATC)1
In ZUMA-3, TECARTUS was provided as a definitive, one-time infusion, manufactured within a median of 16 days from leukapheresis to product delivery1
The TECARTUS
treatment process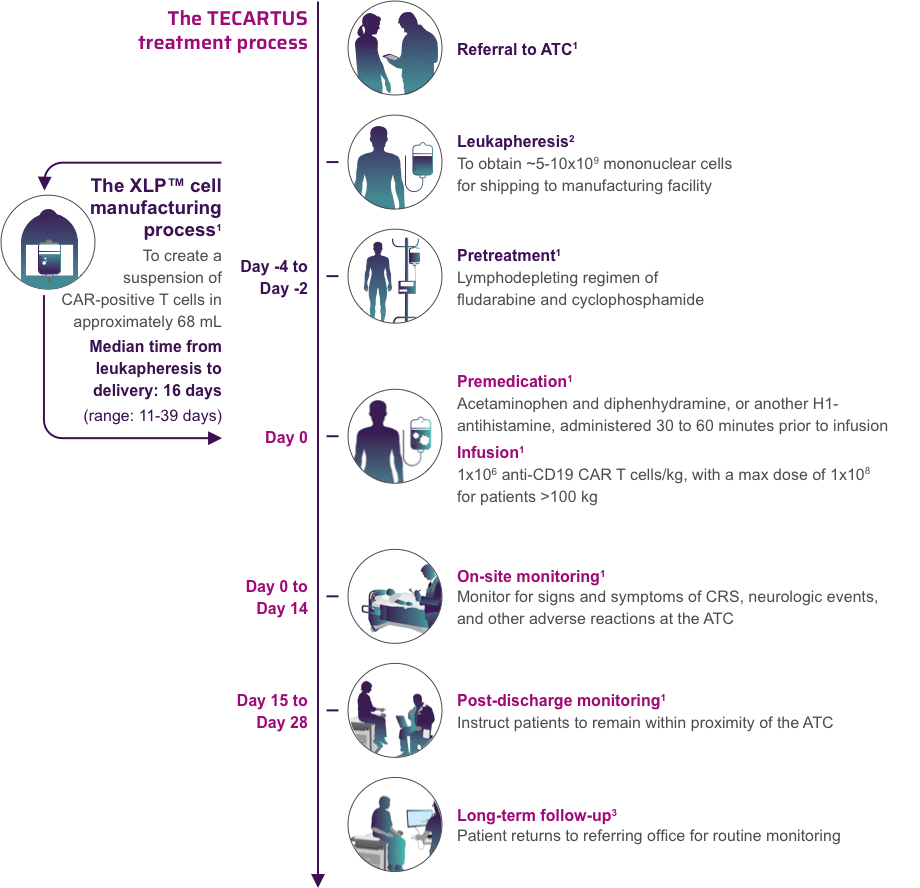 *In the ZUMA-3 trial, 6 patients did not receive TECARTUS due to manufacturing failure.1
XLP is a trademark of Kite Pharma, Inc.
Authorized Treatment Centers are independent facilities certified to dispense Kite CAR T therapies. Choice of an Authorized Treatment Center is within the sole discretion of the physician and patient. Kite does not endorse any individual treatment sites.
Resources may include referrals to independent third-party nonprofit patient assistance programs. These programs are not operated or controlled by Kite. Nonprofit patient assistance program eligibility requirements may vary and are established solely by each independent organization. Kite makes no guarantee with respect to reimbursement or copay assistance for any item or service.
Cell therapy patient programs are for eligible prescribed patients.
ALL=acute lymphoblastic leukemia; CAR=chimeric antigen receptor; CRS=cytokine release syndrome; R/R=relapsed or refractory.
References: 1. TECARTUS® (brexucabtagene autoleucel). Prescribing information. Kite Pharma, Inc; 2021. 2. Data on file. Kite Pharma, Inc; 2021. 3. Shah BD, Ghobadi A, Oluwole OO, et al. KTE-X19 for relapsed or refractory adult B-cell acute lymphoblastic leukaemia: phase 2 results of the single-arm, open-label, multicentre ZUMA-3 study – supplementary appendix. Lancet. 2021;398(10299):491-502.