In patients with relapsed or refractory mantle cell lymphoma (R/R MCL)
A dependable, established treatment process, from leukapheresis to product delivery1,2
TECARTUS® can only be administered at an Authorized Treatment Center (ATC)1
In ZUMA-2, TECARTUS was provided as a single-dose, one-time
infusion manufactured within a median of 15 days from leukapheresis
to product delivery, with a 96% manufacturing success rate1-4*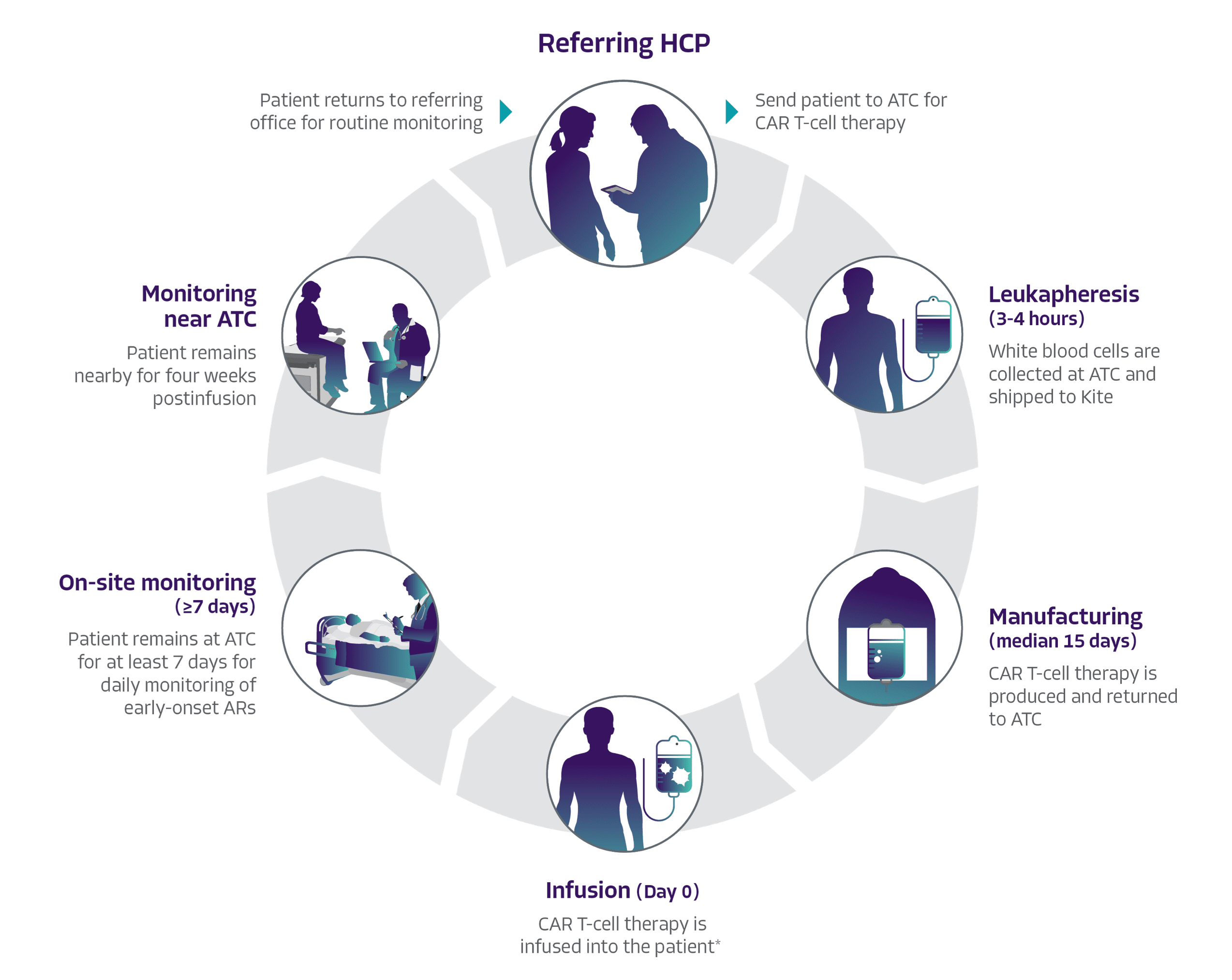 *In the ZUMA-2 trial, 3 patients did not receive TECARTUS due to manufacturing failure.1
†A lymphodepleting chemotherapy regimen is administered on the 5th, 4th, and 3rd day before infusion of TECARTUS. After thawing, premedication is administered 30 minutes to 1 hour prior to infusion, then TECARTUS is infused into patient.1
Authorized Treatment Centers are independent facilities certified to dispense Kite CAR T therapies. Choice of an Authorized Treatment Center is within the sole discretion of the physician and patient. Kite does not endorse any individual treatment sites.
Resources may include referrals to independent third-party nonprofit patient assistance programs. These programs are not operated or controlled by Kite. Nonprofit patient assistance program eligibility requirements may vary and are established solely by each independent organization. Kite makes no guarantee with respect to reimbursement or copay assistance for any item or service.
Cell therapy patient programs are for eligible prescribed patients.
AR=adverse reaction; ATC=Authorized Treatment Center; CAR=chimeric antigen receptor; HCP=healthcare professional.
References: 1. TECARTUS® (brexucabtagene autoleucel). Prescribing information. Kite Pharma, Inc; 2021. 2. Wang M, Munoz J, Goy A, et al. KTE-X19 CAR T-cell therapy in relapsed or refractory mantle cell lymphoma – study protocol. N Engl J Med. 2020;1-47. 3. Data on file. Kite Pharma, Inc; 2020. 4. Jacobson CA, Farooq U, Ghobadi A. Axicabtagene ciloleucel, an anti-CD19 chimeric antigen receptor T-cell therapy for relapsed or refractory large B-cell lymphoma: practical implications for the community oncologist. Oncologist. 2020;25(1):e138-e146.